About the Company
What we do
ITNY's mission is to celebrate and advance dance on ice as a performance art. Through its performances in both traditional and site specific venues, ITNY presents ice dance that helps to open ones eyes to seeing skating in new and unexpected ways. ITNY was the very first ice dance company to receive dance program funding from the National Endowment for the Arts, the New York State Council on the Arts and the New York City Department of Cultural Affairs.
ITNY is dedicated to performing works of dancing on ice in a variety of venues. ITNY presents many free performances featuring the current repertory throughout New York City.

ITNY has created exclusive works by choreographers as varied as ballet great Edward Villella, modern dance choreographers Jacqulyn Buglisi, Elisa Monte & David Parsons, Performance Artist Ann Carlson and Emmy Award Winner "Chucky" Klapow.

ITNY trains the company skaters and guest skating artists in its weekly Master Edge Classes at Sky Rink, Chelsea Piers.

We continue to collaborate with choreographers from both the dance and skating worlds, while exploring creatively exciting relationships with artists from theatre, music and new media disciplines.
How we started
Moira North saw a need for a place where skating artists could create works that integrate the sensibilities of contemporary dance, music and art challenging the perceptions and conventional definitions of figure skating. The company was founded at the end of 1984 by Ms. North in collaboration with Belgian modern dance choreographer Marc Bogaerts, figure skating coach Cecily Morrow and artist Marjorie Kouns. Modeled as a dance company, ITNY has trained a professional ensemble of skaters and built a critically acclaimed repertory of performance pieces that have been presented both nationally and internationally.

The company's Founder/Artistic Director, Moira North and Executive Director, Jirina Ribbens have equally impressive backgrounds in choreography and management and a combined experience of over three decades in production, artistic direction, and public relations.
Since its inception Ice Theatre of New York (ITNY) has changed the face of figure skating by creating over 125 pieces of repertory choreographed by ballet, modern dance, skating and contemporary choreographers.
In tribute, Olympic ice skating gold medalist Dick Button has lauded ITNY as "making a forceful and valued impact on the creative artistry of the fine art of skating" through championing bold, new choreography and uniquely expressive performances in association with top ballet and ice dance masters.
How we reach the community
ITNY is dedicated to making performances accessible to diverse audiences and presents many free performances featuring the current repertory throughout New York City. ITNY also reaches its public arts and education mission by:
commissioning new choreography, with pieces by recognized and promising ballet and ice skating artists;

offering free admission to more than ten public performances each year, including our City Skate Concert Series at area seasonal rinks;

holding free Master Classes led by ITNY dancers for skating professionals and enthusiasts at our home rink, Sky Rink;

offering apprentice/training programs for aspiring young ice dance artists and providing performance opportunities for this Junior Ensemble;

conducting our new Works and Young Artists Series for NYC public school children, which introduces them to the fine art of gliding on ice and the sport of figure skating with both a performance and a skating clinic component;

presenting our Annual Benefit Gala honoring someone who is accomplished in our Ice Dance world and has stayed connected beyond their own performances; someone who has given back to our 'icy" world and has been a role model for others to follow.
Ice Theatre of New York believes that it is vital to reach out to the next generation of skaters and audiences through education, community outreach, and training programs. We are committed to continuing and expanding our joyful work with public school children with the aim of introducing America's youth to the athleticism and artistry of skating and ice dance.
We are dedicated to promoting skating as a healthy recreational activity for people of all ages by educating the public about the tremendous benefits of coordination, balance, focus, and discipline that is required and gained from learning on a challenging surface of cold slippery ice.
To support ITNY click here.
With your help we continue to create dancing on ice for all to enjoy and we reach more public school children to introduce them to the joy of dancing on ice.
Thank you!
Highlights of the upcoming 2021- 2022 Season
We have started paid weekly Master Edge Classes at City Ice Pavilion on Tuesdays at 10:30AM - taught by ITNY Performer Sarah France. For more information click here.
Our Master Edge Class on the ice at Sky Rink Chelsea Piers are paused, they will resume after the Home Season on May 6, 7 and 9th. This class is taught by Ensemble Director Elisa Angeli and guest artists. Contact the office about participating and to be added to our class notification list for when we start again.
In the Fall 2021 ITNY we presented Pop-Up concerts at the NYC seasonal ice rinks. Venues included The Rink at Rockefeller Center, Winter Village at Bryant Park, Brookfield Place, Riverbank State Park and Lefrak Center at Prospect Park.
In December we presented our annual Winter Holiday Skating Celebration and Tree Lighting at Denny Farrell Riverbank State Park, free for the community, on Saturday, December 11, 2021 at 4PM.
Winter 2021/22 we continued our free lunch-time performances as part of our 2022 City Skate Concert Series at Rockefeller Center. As is our annual tradition, the February concert is in honor of Black History Month.
Please note the fall Gala will now take place in the Spring of 2022. The annual Benefit Gala and Performance on May 9, 2022 will celebrate our 35th Anniversary. The event will again take place at The Lighthouse, Chelsea Piers (following a performance at Sky Rink).
The Gala performance is part of our three-night Home Season at Sky Rink Chelsea Piers, which will feature the ITNY Ensemble, the Junior Ensemble and guest performers. Performances dates are Friday, May 6, Saturday May 7 and Monday May 9, 2022 (performances at 7PM on May 6 &7 and 6:30PM on May 9th at Sky Rink, Chelsea Piers).
In the Spring 2022 we hosted our New Works & Young Artists Series on Zoom, next year this program will happen live at the various rinks around the city!
Junior Ensemble will be performing in our 2022 Home Season with us on May 6, 7 and 9th!
Year-end report for FY21
The Opening of The Rink at Rockefeller Center on November 21 and 22, from 5:00PM to 9:00 PM. ITNY provided two masked female ice dancers for pop-up interactive performances within the context of public skating sessions. Our dancers wore full-length white unitards with large LED-lighted wings, looking like angels bringing some light to these dark times. Rink managers at Tishman Speyer reviewed the performances as "extremely beautiful, touching, and well received." Attendance 1000

Late November through early December 2021, ITNY provided a skating Santa, elf, and the offical mascot of Rockefeller Rink "Roxy" characters at Rockefeller Center, from 1:00 PM to 5:00 PM. Santa was interactive while trying to stay socially distanced from the public. We also provided the Roxy Character for Rockefeller Center's Tree lighting ceremony.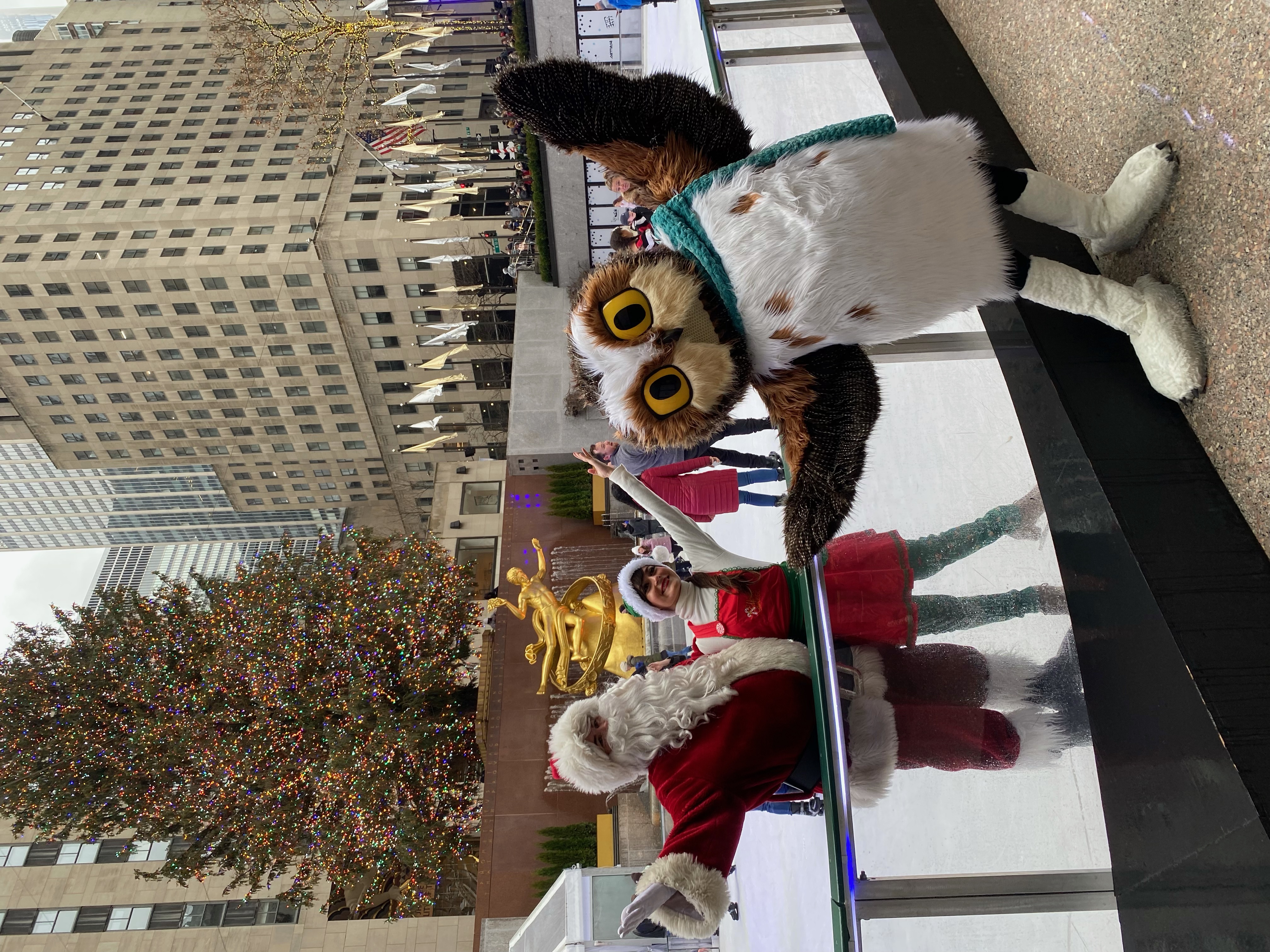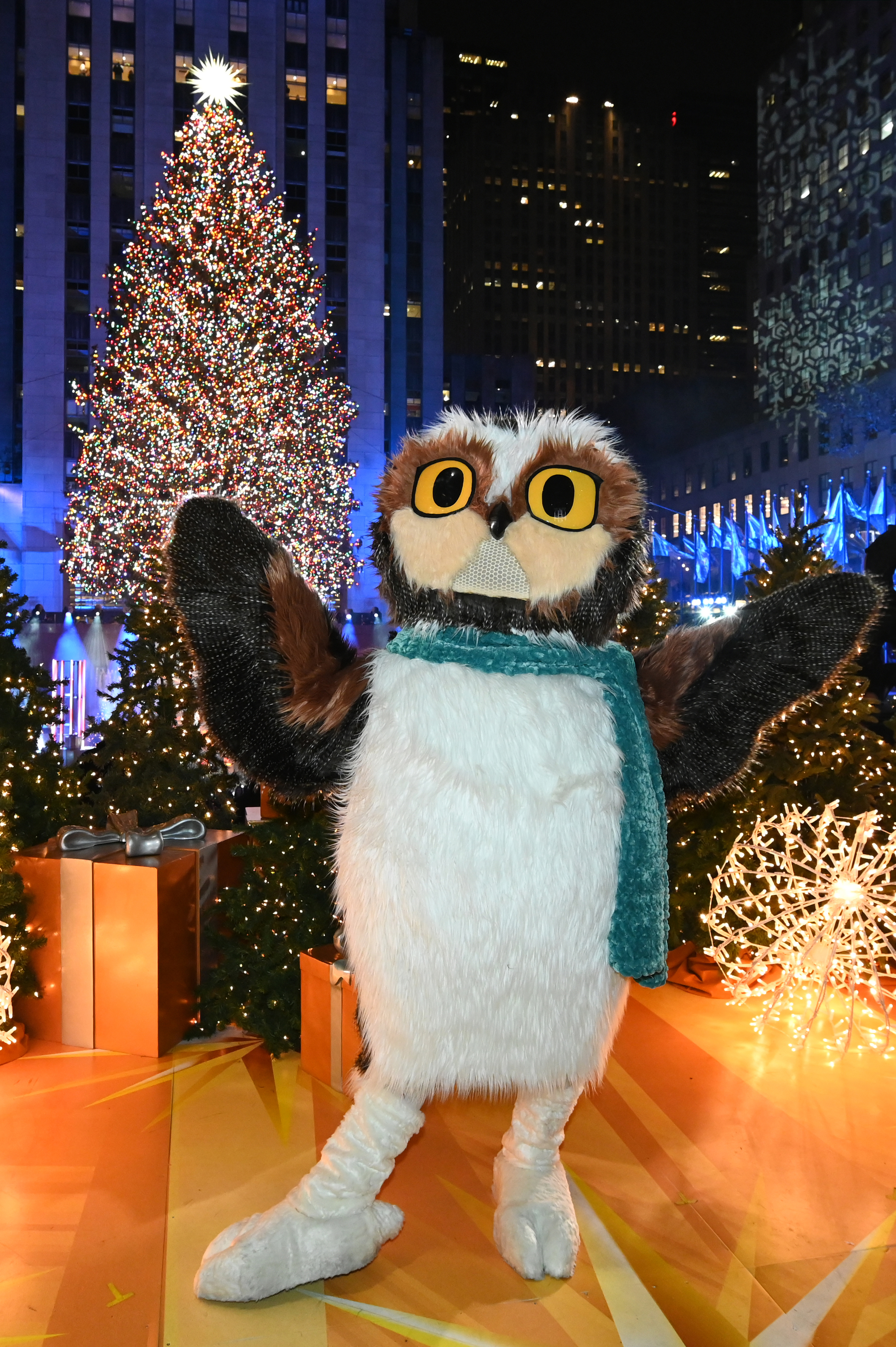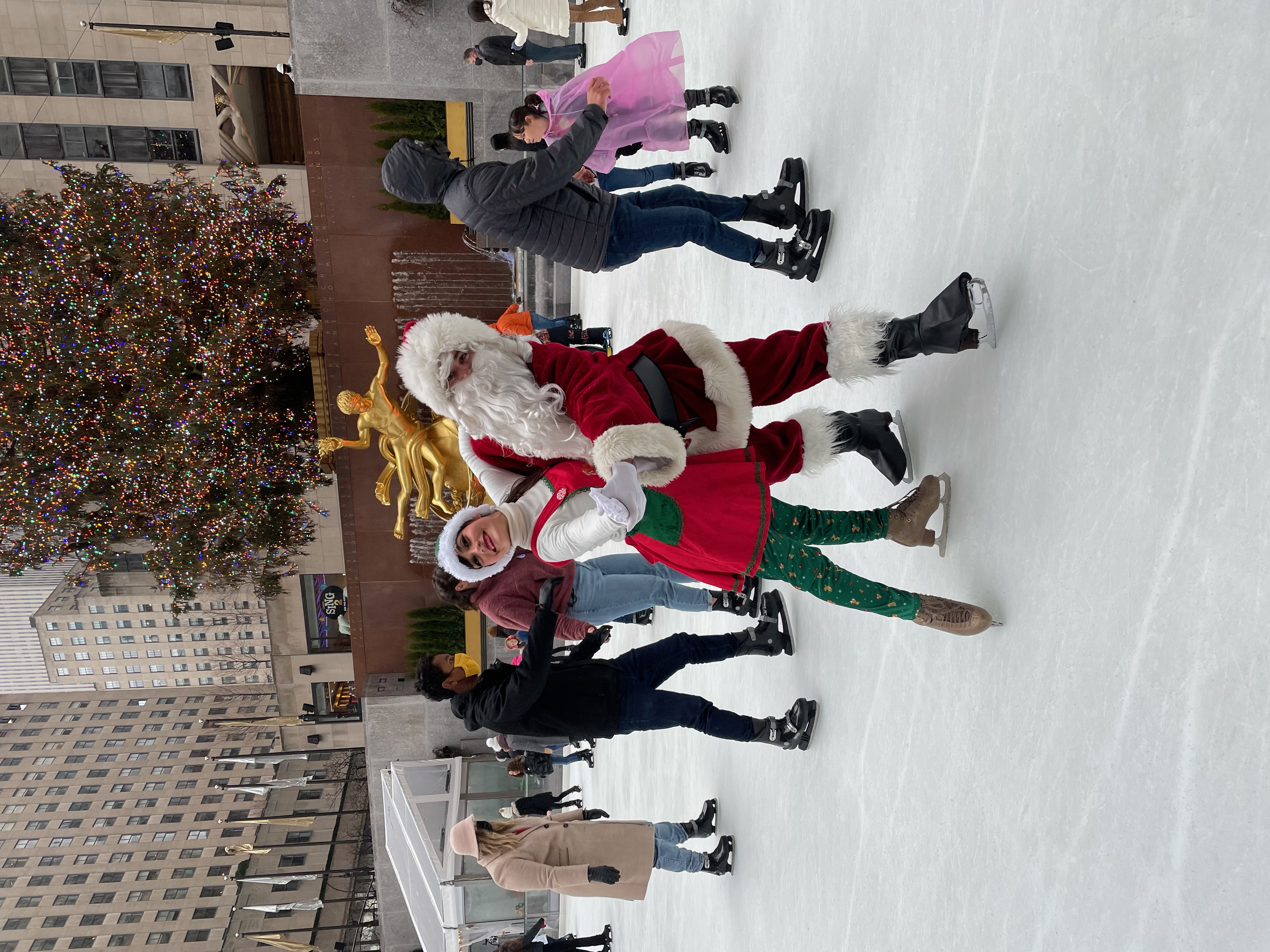 On New Year's Eve at Rockefeller Center , ITNY provided two ice dancers Val Levine and Stephanie Jill dressed in white with huge glittering wings.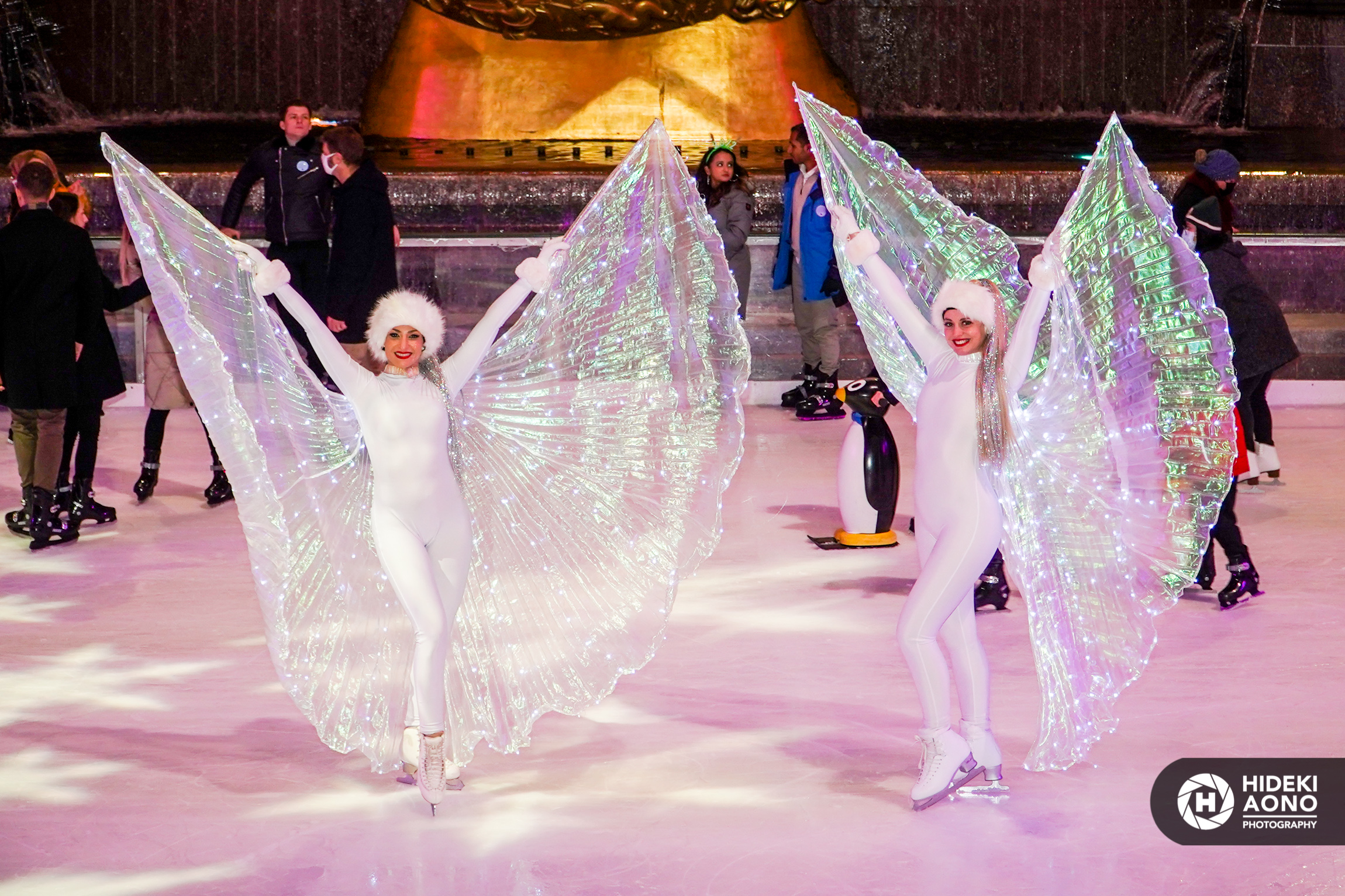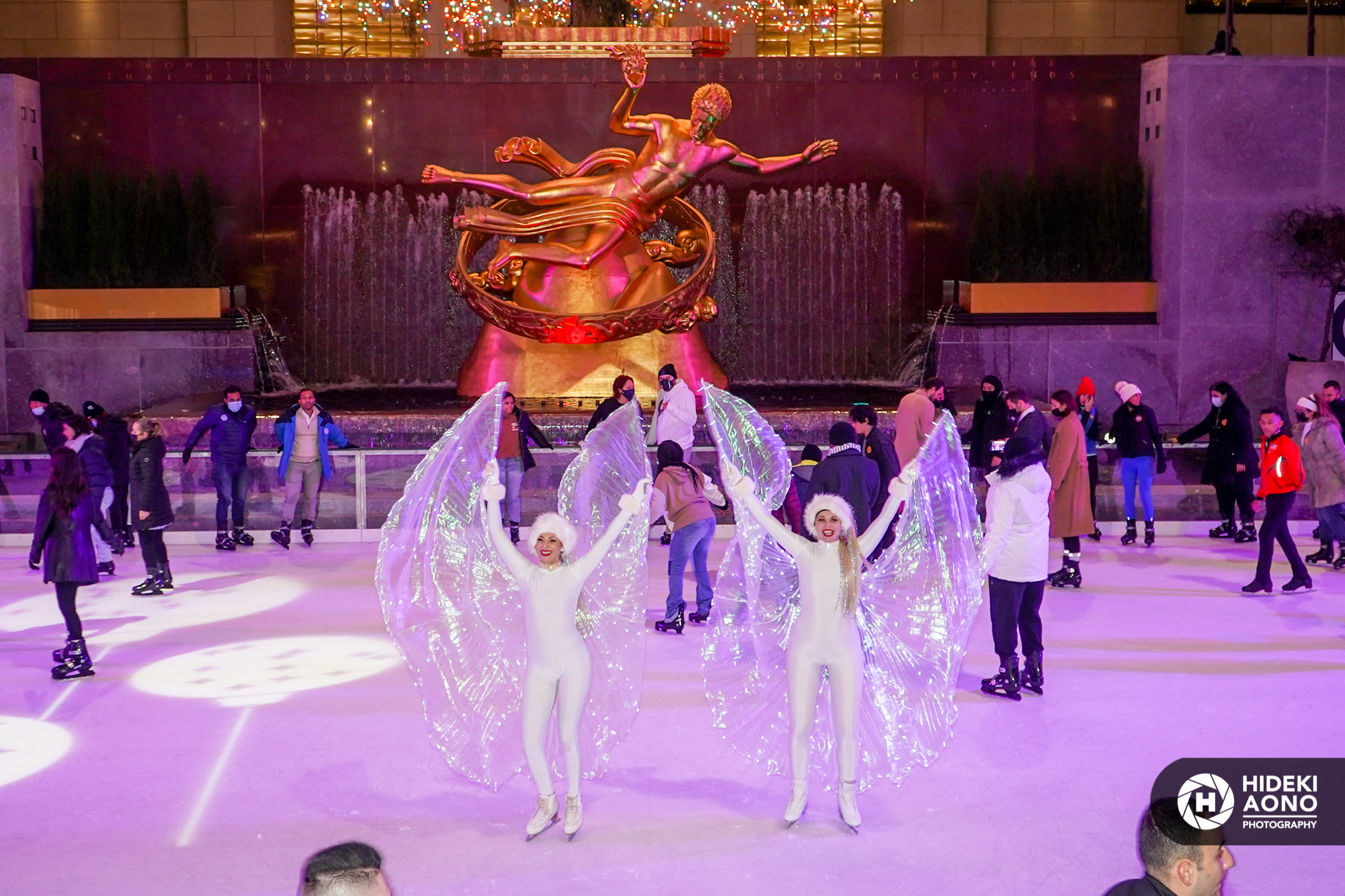 Fall 2021- Winter 2022 City Skate Concert Series
The City Skate Concert Series took place from the Fall 2021- Winter 2022, performing at Brookfield Place Park, Wollman Rink, Riverbank State Park, Bank of America Winter Village at Bryant Park, The Rink at Rockefeller Center, Governors Island Rink, and LeFrak Center at Lakeside. In total there were a total of 27 performances.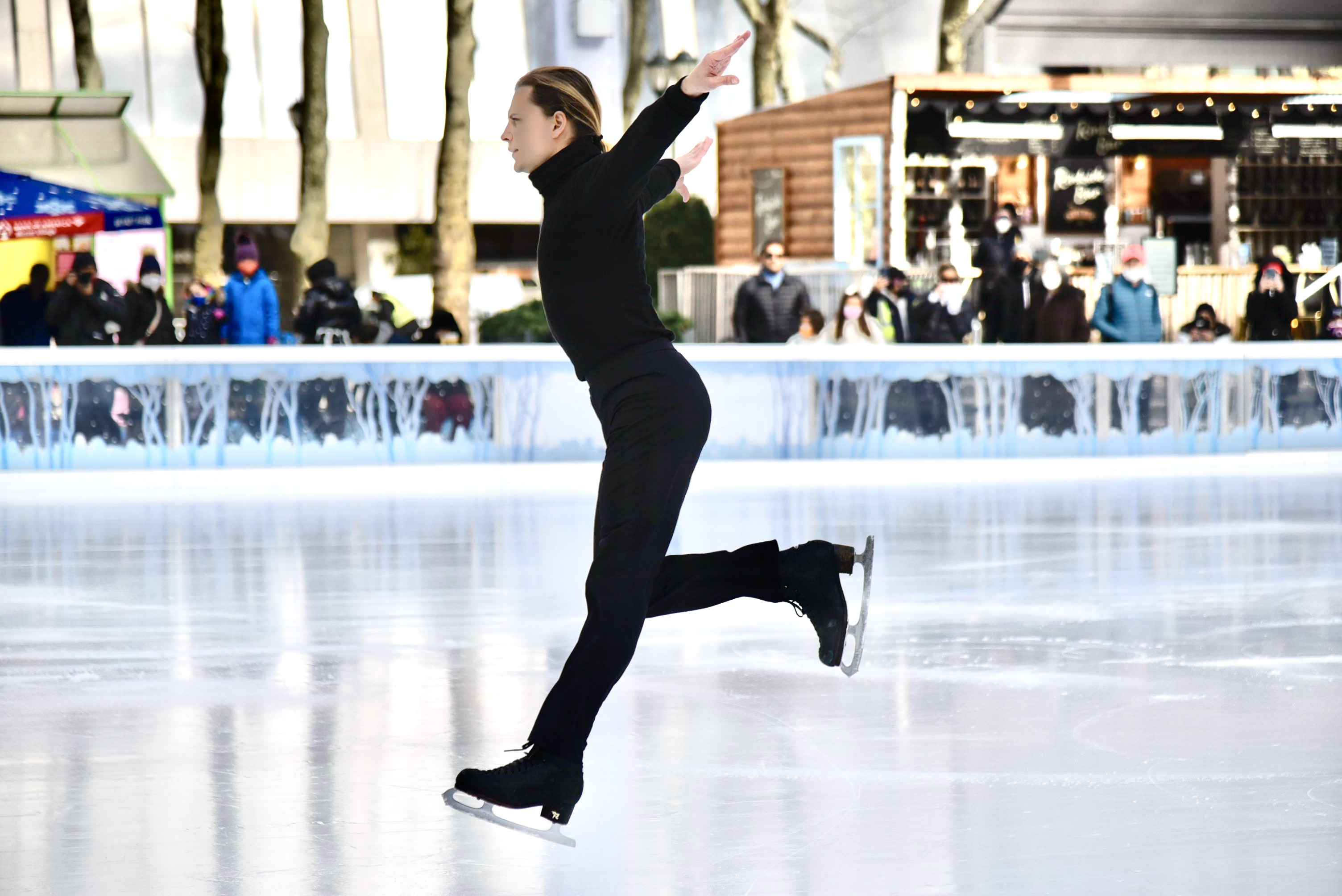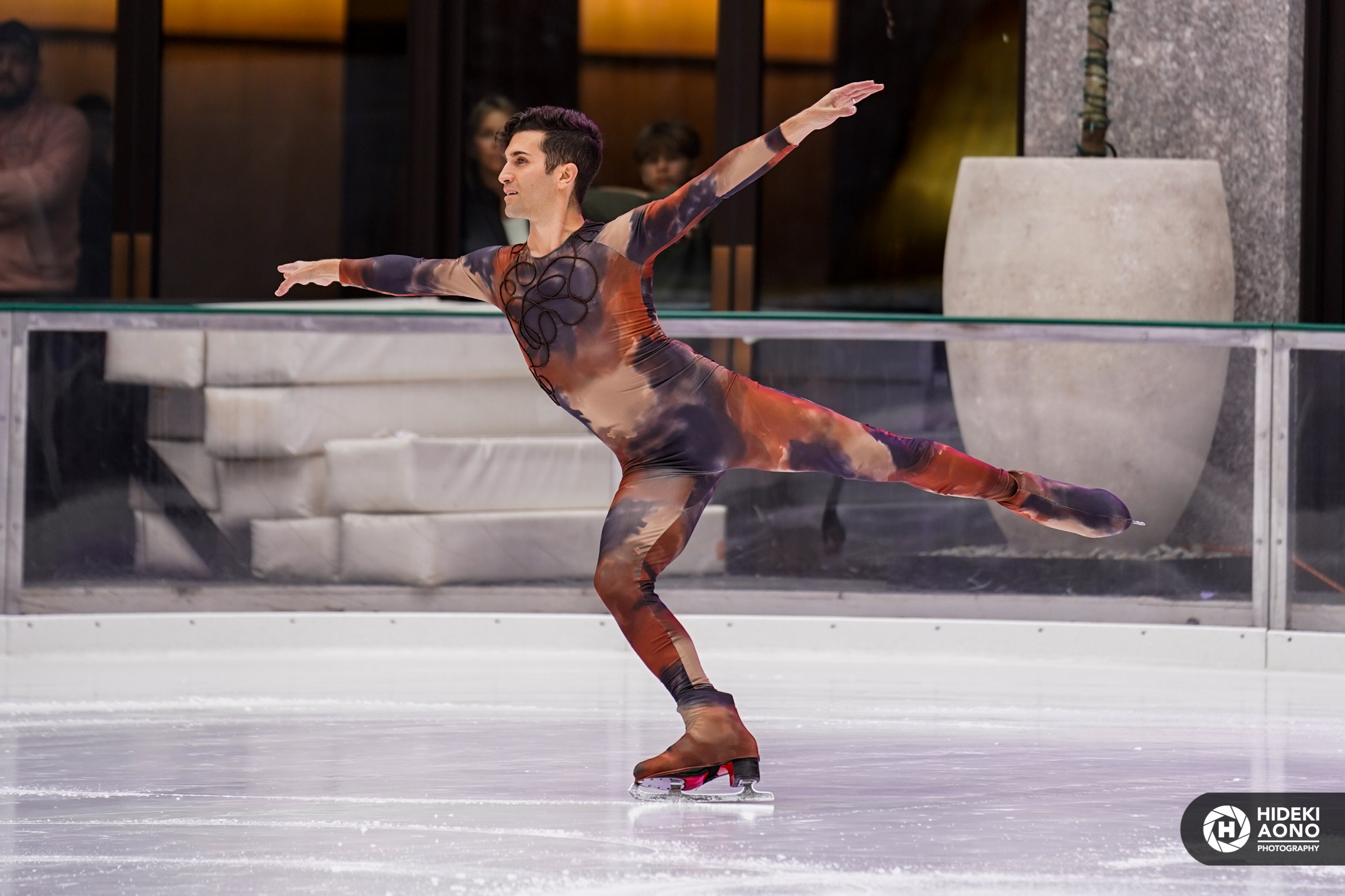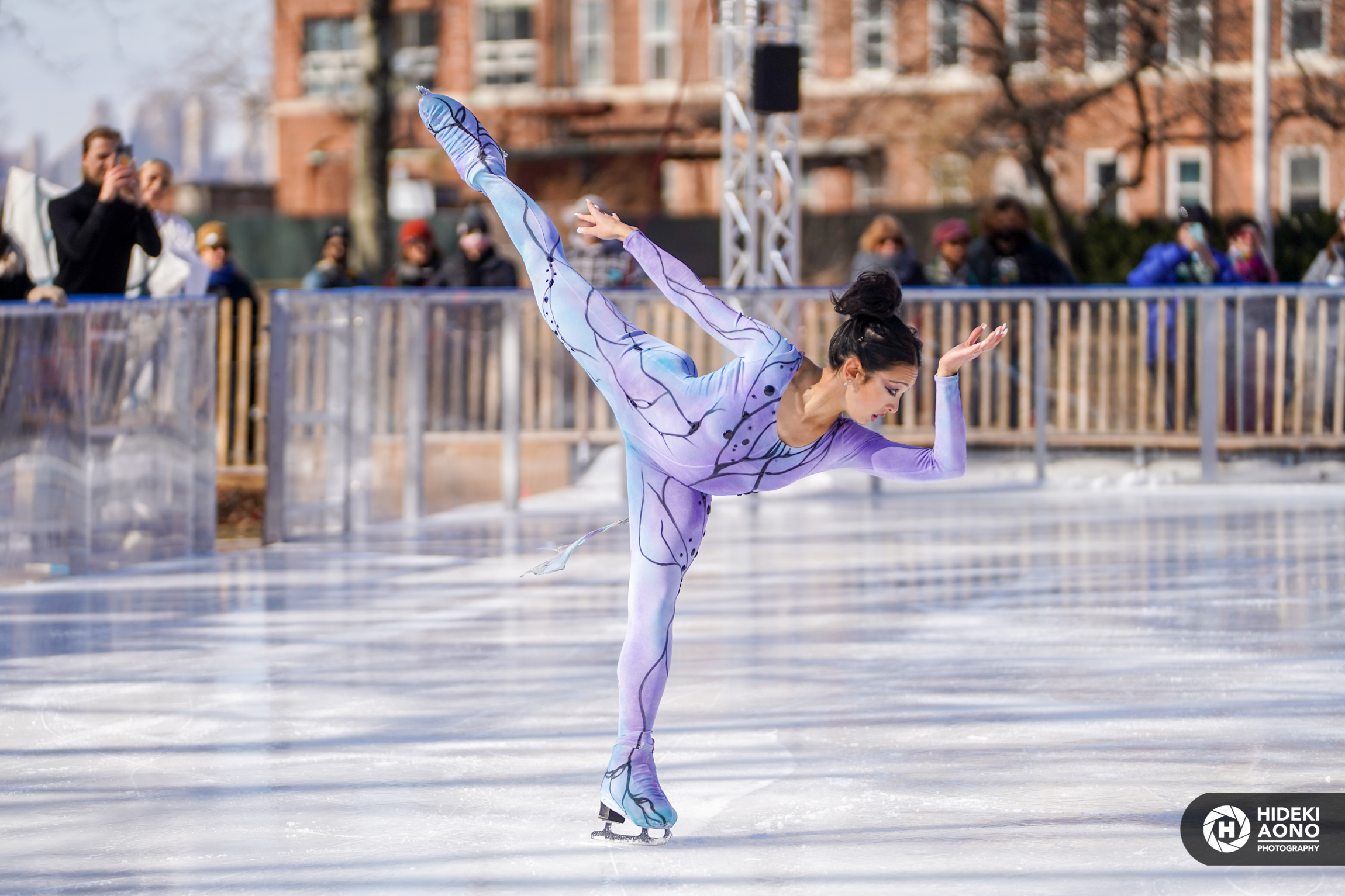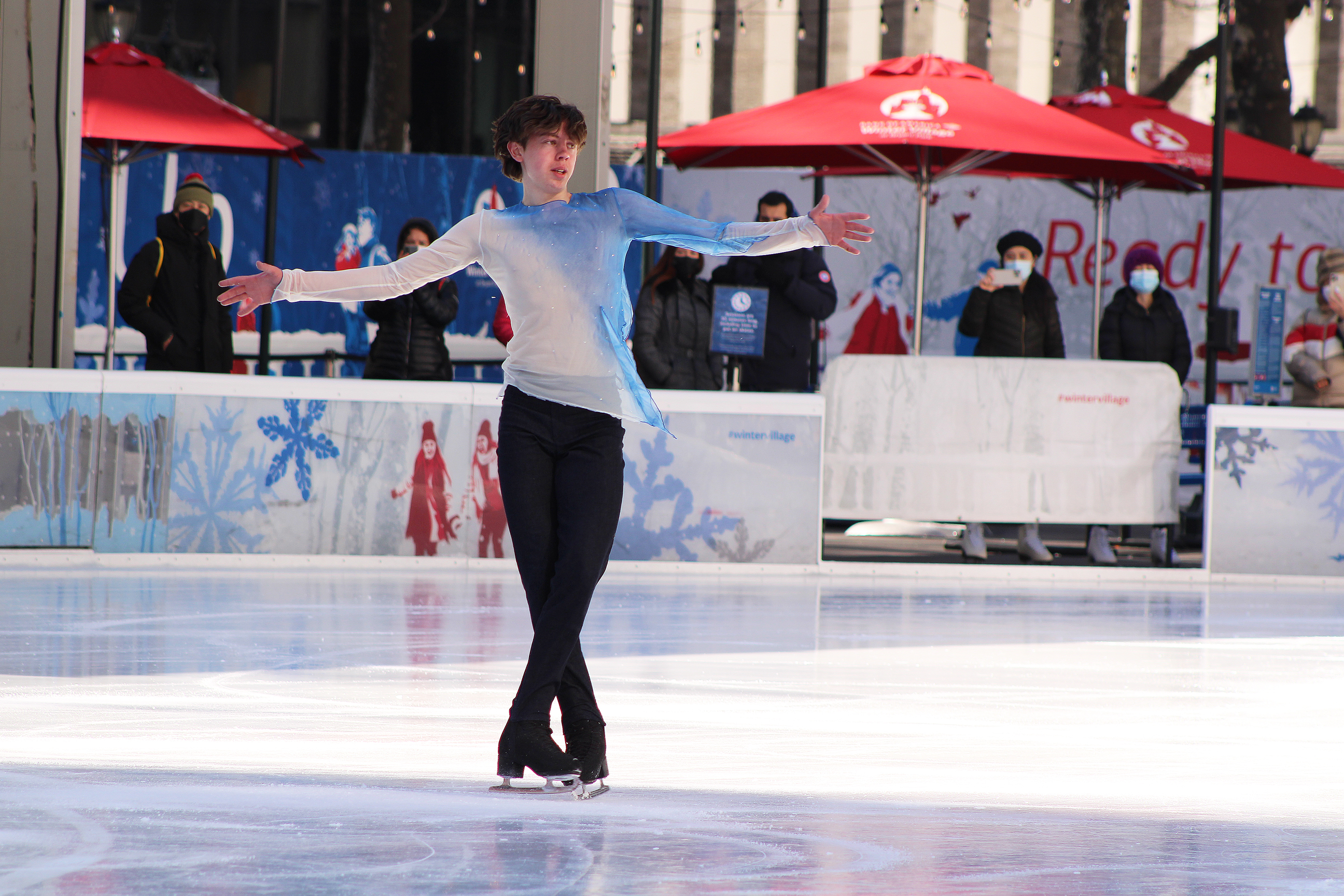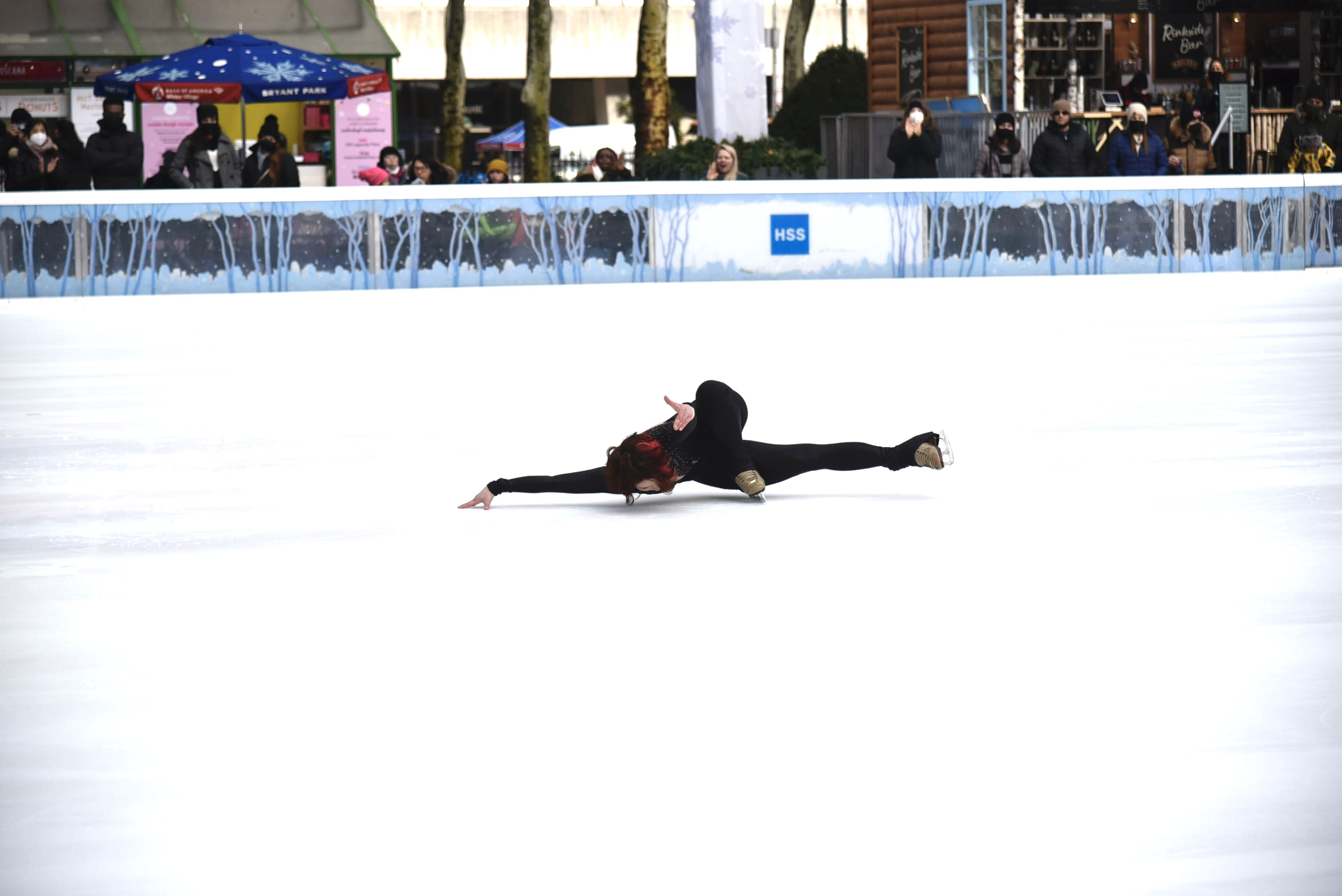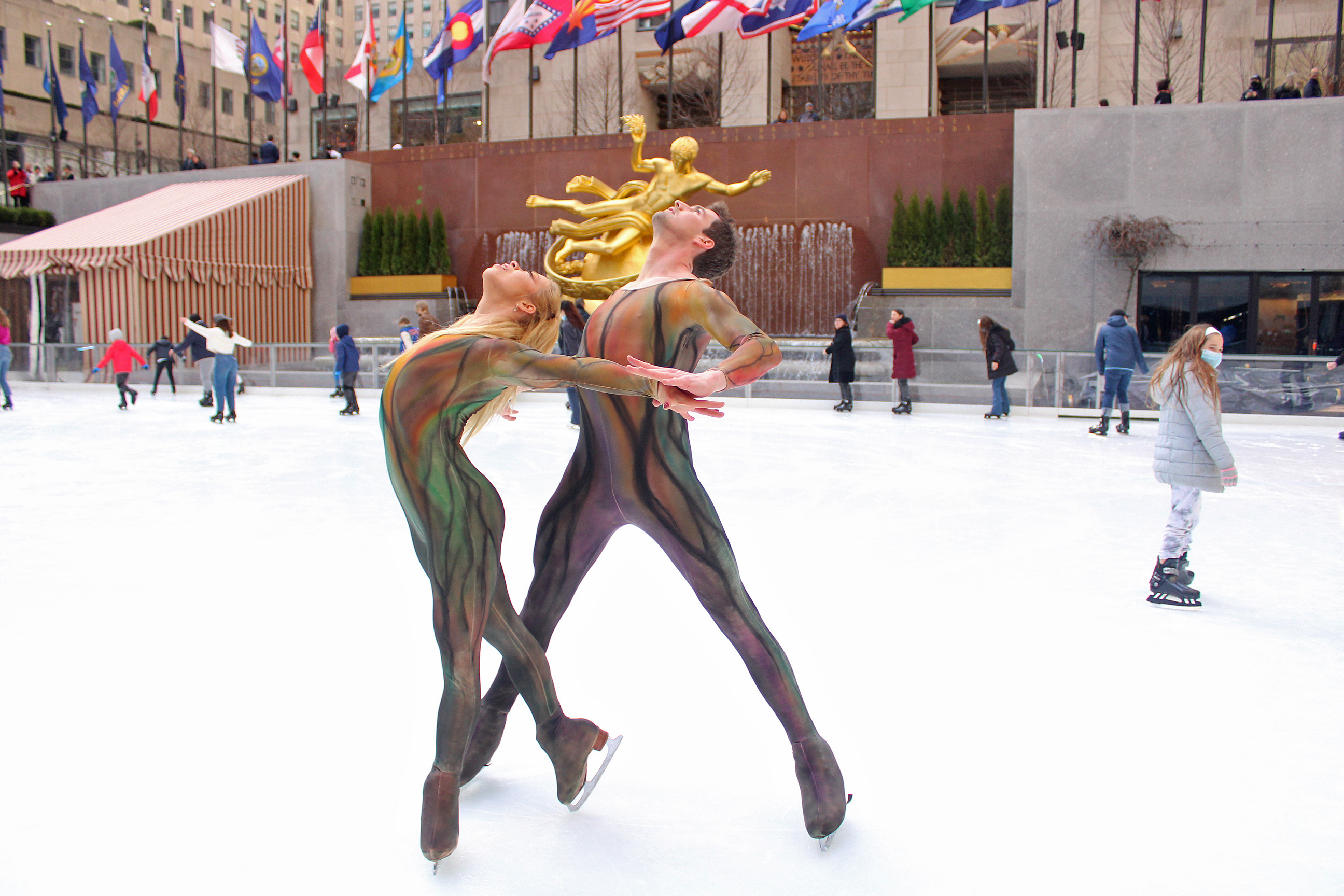 Master Edge Class: From November through March 2022, ITNY gave a series of edge classes for skaters taught by Ensemble Director, Elisa Angeli, company member Sarah France and others. These classes were presented at the Sky Rink at Chelsea Piers.
New Works and Young Artists Series
We held 5 virtual sessions of our educational outreach programming for NYC public school students on 3/10, 3/17, 4/10, 4/17 and 4/24 .2022. The sessions ran from 10:30 A.M. to 12:00 P.M. Our teachers began by introducing the students to the art and sport of figure skating followed by a 15-minute video of dancing on ice by our professionals, with particular emphasis on showing a variety of our dances and diverse performers. It included a variety of performances from our repertory, exposing the children to many different forms of performance and types of music. Following this presentation, each class was separated into smaller interactive rooms with a designated teacher. (Five to six teachers per session as needed). The students received basic skating, off-ice preparation instructions, and tried out these moves in their classrooms or their own homes. The teachers provided feedback and answered many questions from the students and their teachers. We reached out to all regularly participating schools and added special outreach to schools in the outer boroughs. Those schools were previously prevented from attending in person because of distance to the rink where the live programming takes place. Students from Staten Island and the outer parts of Queens were delighted to discover our programming.
Ice Theatre of New York's performances are made possible in part by the New York State Council on the Arts with the support of Governor Andrew M. Cuomo and the New York State Legislature. ITNY is also supported by the New York City Department of Cultural Affairs, in partnership with the City Council, and NYC Council Member Mark Levine, and by Dance/NYC'S Coronavirus Dance Relief Fund.
Additionally, ITNY receives funding from Bloomberg Philanthropies, the Lisa McGraw Figure Skating Foundation, the Will Sears Foundation, and its generous private patrons.