Kurt Browning & Sonia Rodriguez honorees at 2013 Ice Theatre Gala
Ice Theatre of New York's 2013 annual Benefit Gala and Performance will honor "The Best of Ice and Dance: Kurt Browning and his wife Sonia Rodriguez". Save the date: Friday, October 25, 2013.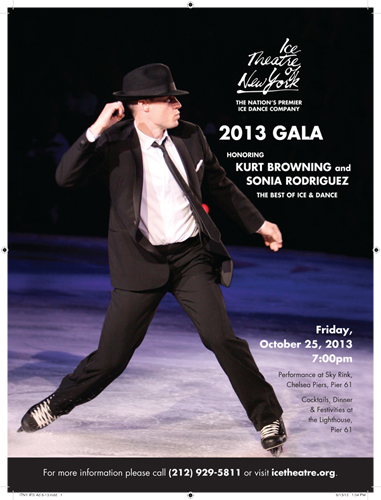 2013 Annual Benefit Gala and Performance at Sky Rink on Friday, October 25 at 7PM.
Cocktails, auction, dinner and award ceremony at The Lighthouse, Chelsea Piers immediately after the performance (about 8:15PM)
Individual tickets will go on sale early September and on-sale date of performance only tickets will be announced ASAP. For reservations & pre-sale of tables or to be added to the invitation list, please call the office at (212) 929-5811.

Performance at 7PM at Sky Rink, Chelsea Piers
The performance will feature the Ice Theatre Company in the world premiere of two new pieces - one by renowned dancer and Founder of the Miami Ballet, Edward Villella and one by Ice Theatre's Artistic Director, Douglas Webster. In addition we will re-stage some of our major repertory pieces. Plus a surprise performance by our honorees?

Benefit Gala immediately following the performance at The Lighthouse, Chelsea Piers (at about 8:15 PM)
Cocktails, sit-down dinner and award ceremony featuring a video tribute to our honorees.

We are now taking reservations for table sales and individual Gala tickets:
Tables: $4000, $6000 and $10,000
Individual tickets: $400, $600 and $1,000

We will be producing a beautiful Benefit Journal with congratulatory messages for our honorees - contact us at itny@icetheatre.org if you would like to place an ad. Journal Form.

For more information please call (347) 559-5697 through July 1 and after please call (212) 929-5811.